Bookstore
CMHA offers a variety of publications and products to help you meet your education and outreach goals.
RECIPIENT RIGHTS BOOKLETS:
The Mental Health Code states that CMHSPs are required to distribute "Your Rights When Receiving Mental Health Services in Michigan" booklet to each recipient receiving services. Last revised 01/2022.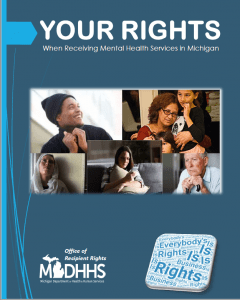 *CMHA has sold out of the 2022 Recipient Rights Booklets. Currently we are offering a steep discount on last years publication. These booklets do not include the most recent changes made to the Mediation and NGRI sections in 2022.  MDHHS-ORR approved the sale of the 2021 editions and may continue to be distributed with no sticker needed as the changes made were not content related.
Prices for Booklets: .40¢ (Plus Shipping)
Payment is required at time of purchase, NO EXCEPTIONS. Shipments will take place within 30 days after payment has been received.
Spanish, Arabic and Podcast:  The Rights Booklet is available to download in Spanish, Arabic and via Podcast by Clicking Here!
CUSTOM RECIPIENT RIGHTS ORDERS:
NOT AVAILABLE AT THIS TIME 1. Staple-less: There is also an option to order staple-less booklets at no additional cost.
NOT AVAILABLE AT THIS TIME: 2. Bulk Purchase: In order to obtain the lowest costs possible, The Community Mental Health Association of Michigan offers an annual bulk printing price to all organizations. Orders must be received during the specified window to qualify for the discount.
NOT AVAILABLE AT THIS TIME: 3. Personalization: You are able to personalize the back cover of the Rights booklet during this window.  There is an additional charge of $150 per order. The personalization area is: 4″ wide x 2″ tall; 1 color.  You must submit camera ready artwork via email in one of the following formats: Word, Publisher, Illustrator, Pagemaker or PDF to apiesz@cmham.org.

Questions?? Contact Audrey Piesz at apiesz@cmham.org or (517) 237-3141
Section 330.1788 (788 for short):  Please be advised that per MDHHS, the current Recipient Rights booklet can continue to be used, if a label is placed on page 37 of the booklet over section 788, that states, "Section 1788 has been rescinded. If you have a dispute related to your service planning or the services provided by a Community Mental Health Services Program (CMHSP) or a contracted service provider of a CMHSP, you have the right to mediation under section 1206(a)".
ADDITIONAL PRODUCTS: